New Features


Build New Feedback Streams for different teams
This is one of those developments that based on 2021 customers' feedback we knew we really had to release and here it is!
Are you an Account Admin and you want to build recurrent feedback requests for other teams, like a monthly 1:1? Now you can! You just need to go to the Request Feedback menu, select/create a new feedback request and instead of asking for feedback for yourself, you choose the person or team you want to receive the feedback:
---
Possibility

to have unlimited taps for certain badges even though you might have limited taps per time frame
Did you ever feel the need to limit the number of Taps each user can give, for example because of the way you hand out rewards, but at the same time you want that some of the badges can be unlimited? (as it won't count for rewards or any kind of assessment)
Well, now you can configure that 😉
If you are an account administrator, you can go to the Badges Management menu and define which badges won't count for the taps limit, like in the example below: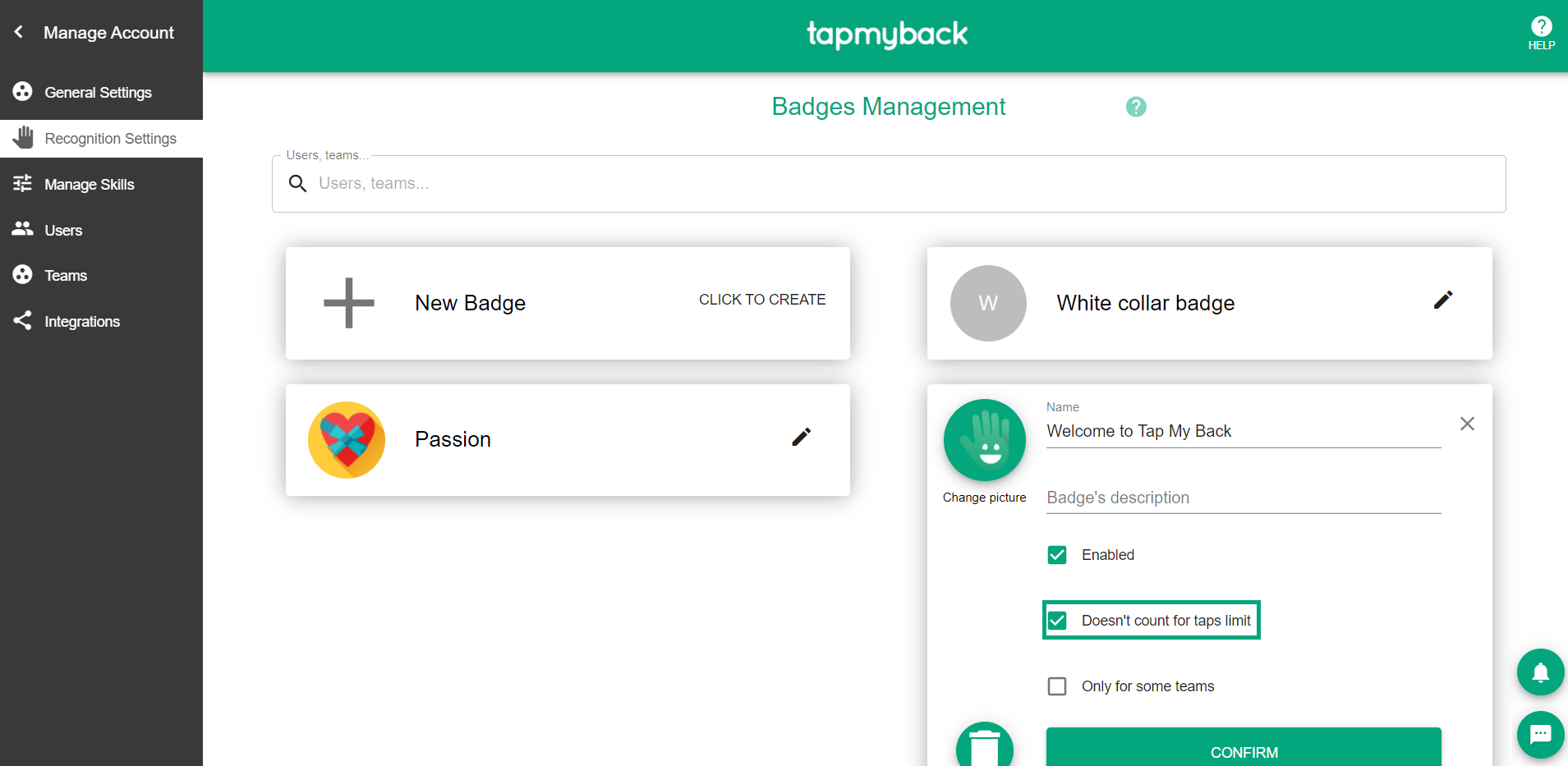 So, even if the user has reached his/her taps limit of the week or month, he/she can still give Taps with the configured unlimited badges: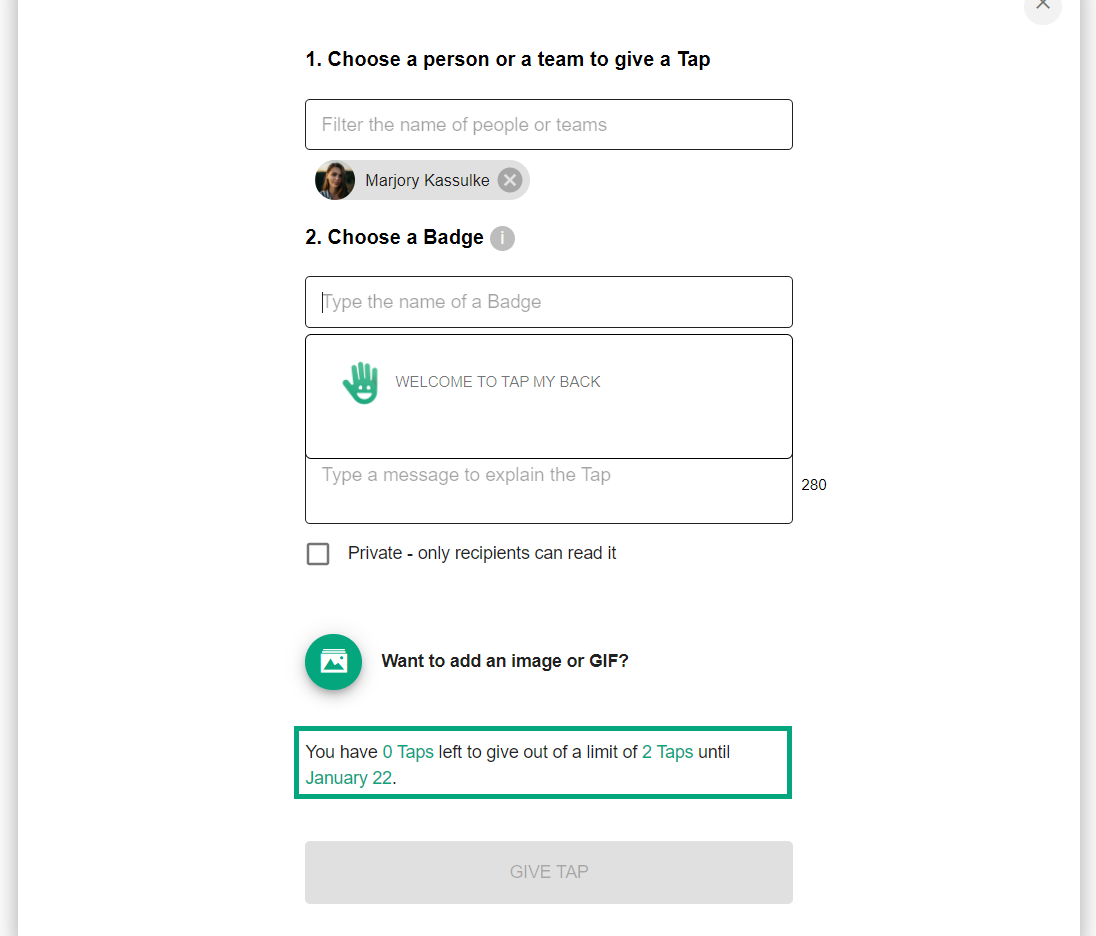 ---
Possibility to provide a private description on Taps
As you may have noticed, Tap My Back is very focused on providing a simple yet flexible solution for employee engagement and feedback.
To respect that flexibility, and again based on users feedback, there's a new option for the Account Admins that want to provide the possibility for the employees that want to provide public Taps, but with private descriptions. This way, only the sender and the receiver(s) of the Tap will read the Tap's description, but all the others can still see the chosen badge for the recognition (and image/GIF, if any).
You can turn ON that possibility in the General Settings menu: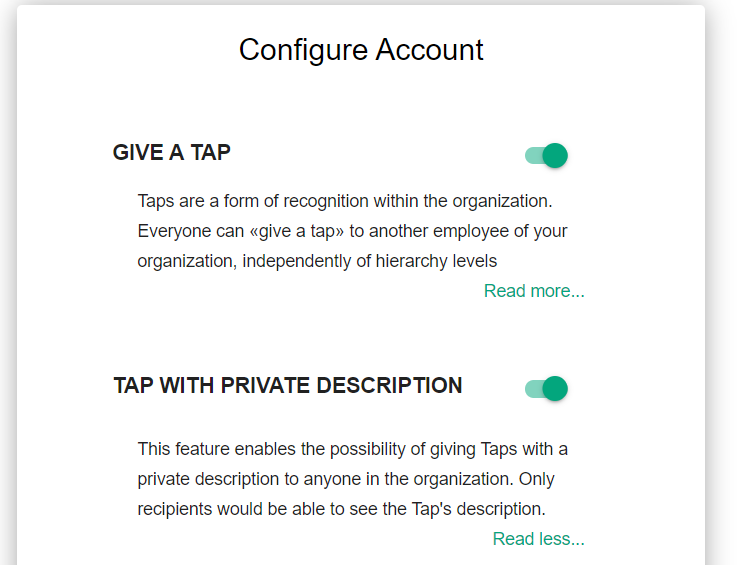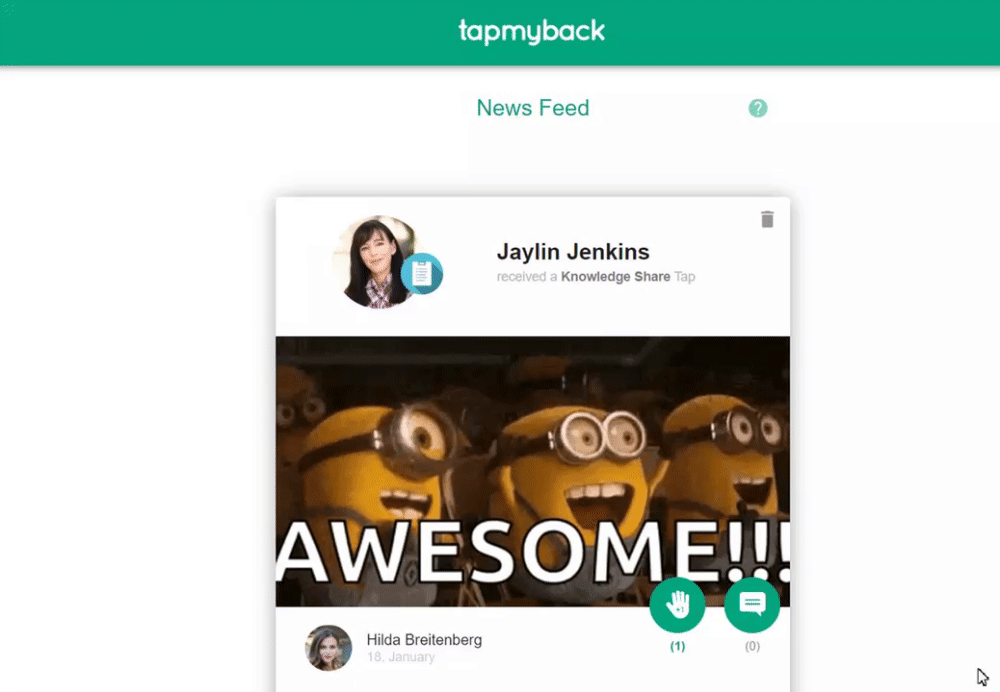 ---
Account and Team Admins can now access user profiles (but private data will remain like that)
If you are an Account Administrator you can access each user profile by clicking her/his name on the User Management menu. For Team Administrators, they can do the same by going to the Team Users menu: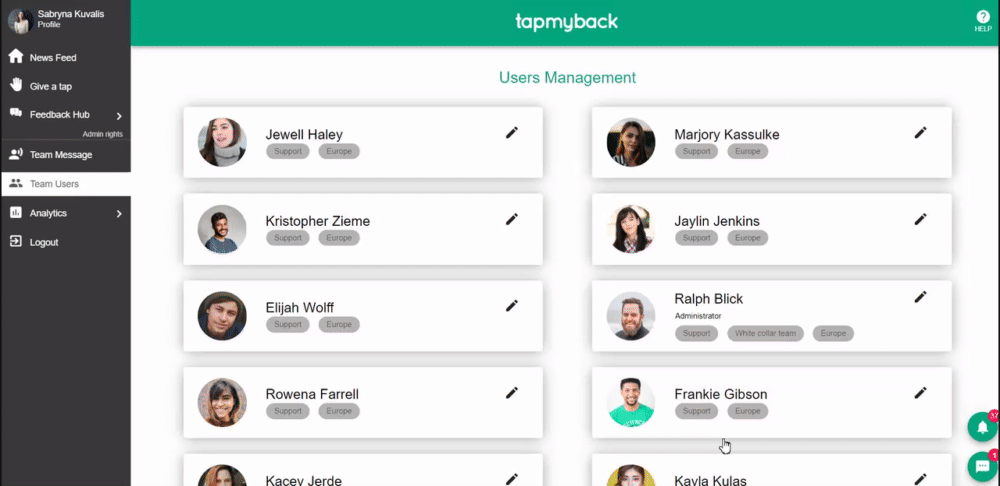 Note: only accounts with the "Team Feedback" option active allow account and team administrators to see the feedback received by a user, according to their specific use case and privacy rules. Under no circumstances Tap My Back allows private information access, according to each account configuration and users' acknowledgment/acceptance.
---
Fixes & Improvements
Option to export the entire Team Feedback to a CSV file
For the Accounts that have the Team Feedback menu active, it's now possible to filter and export Feedback answers and not only stats and skills rating: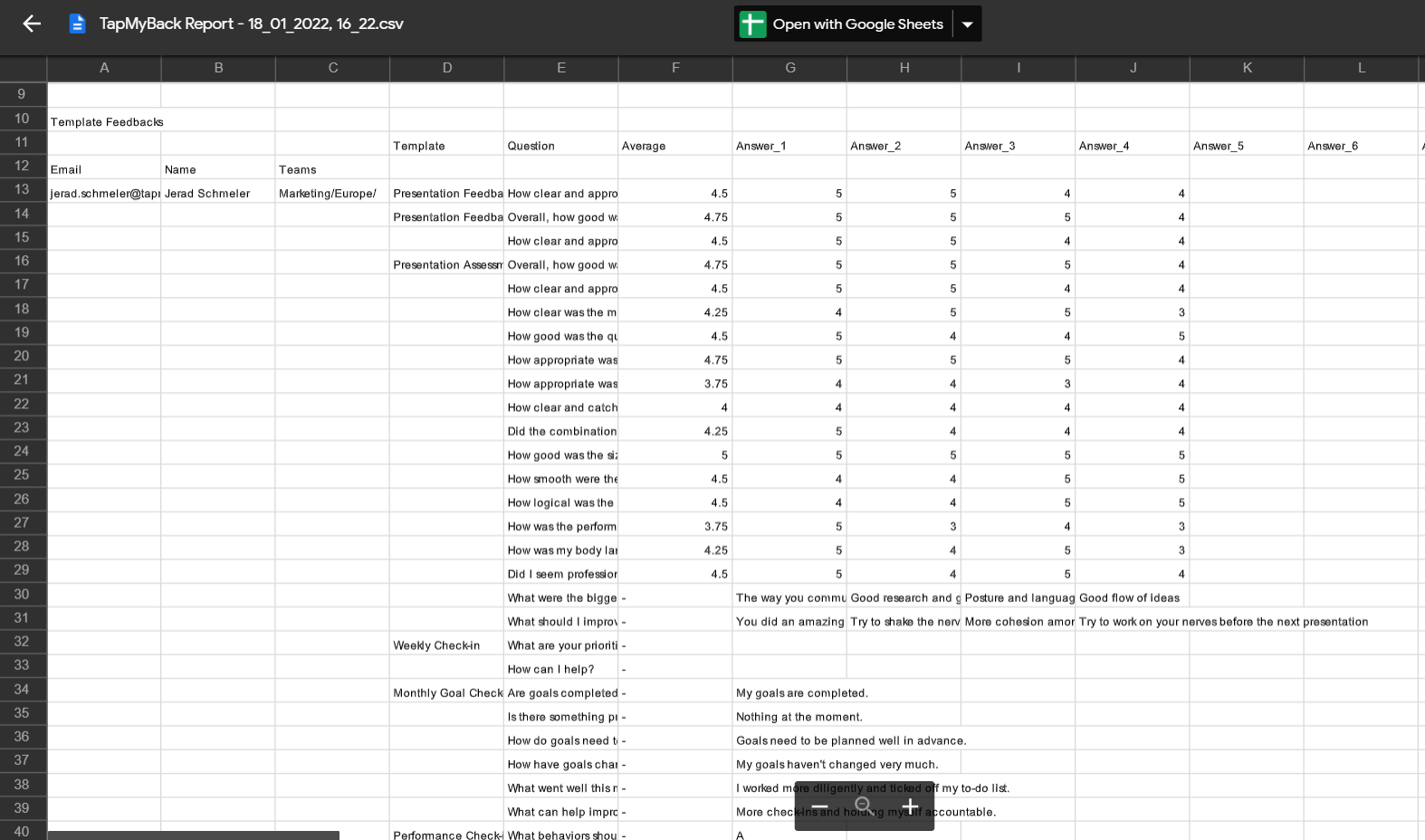 Note: again, only accounts with the "Team Feedback" option active allow account and team administrators to see the feedback received by a user.
Improved design on the Give and Request Feedback Menu, besides Pulse Surveys
Our Design team is continuously working to make the platform nicer to look at 🤩: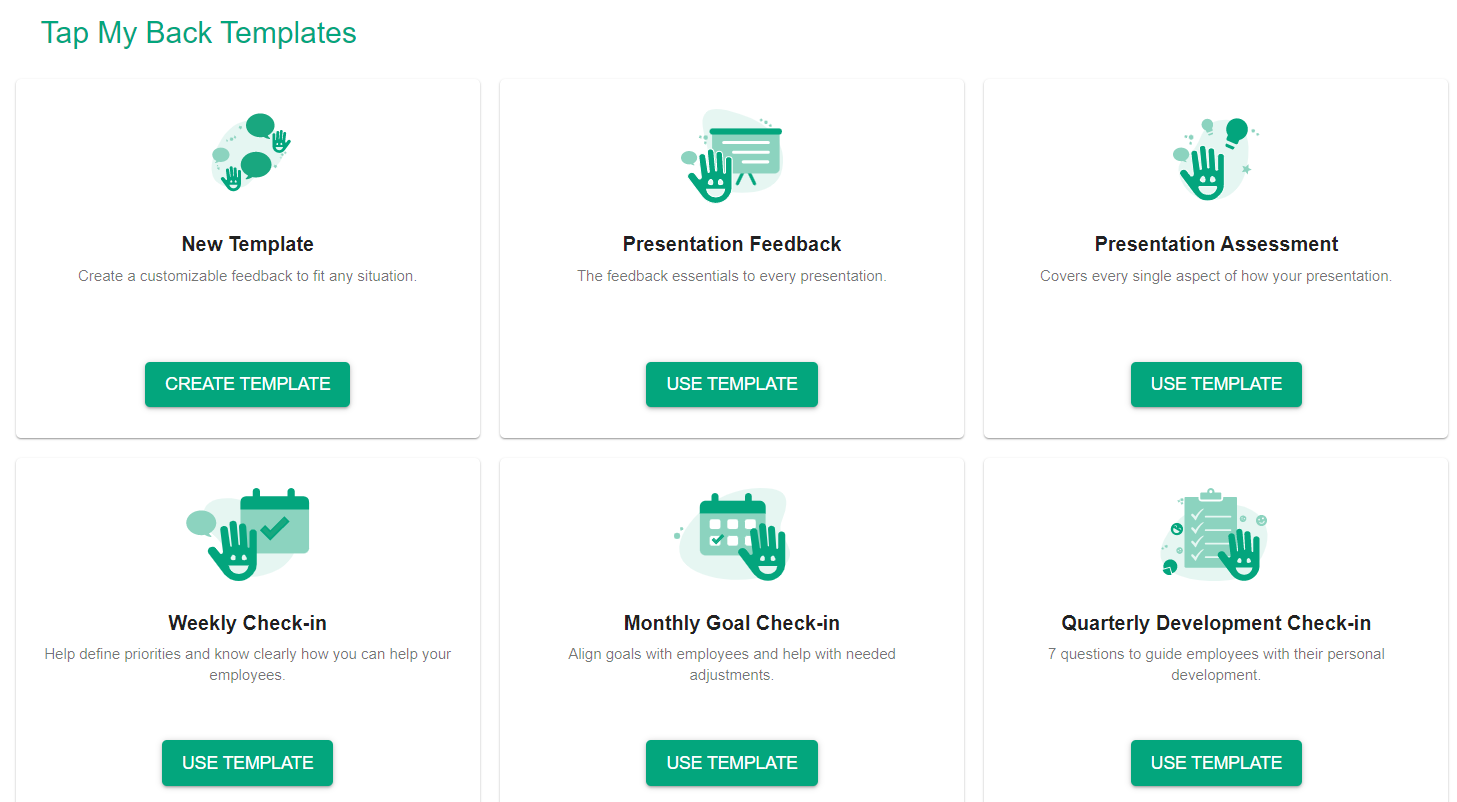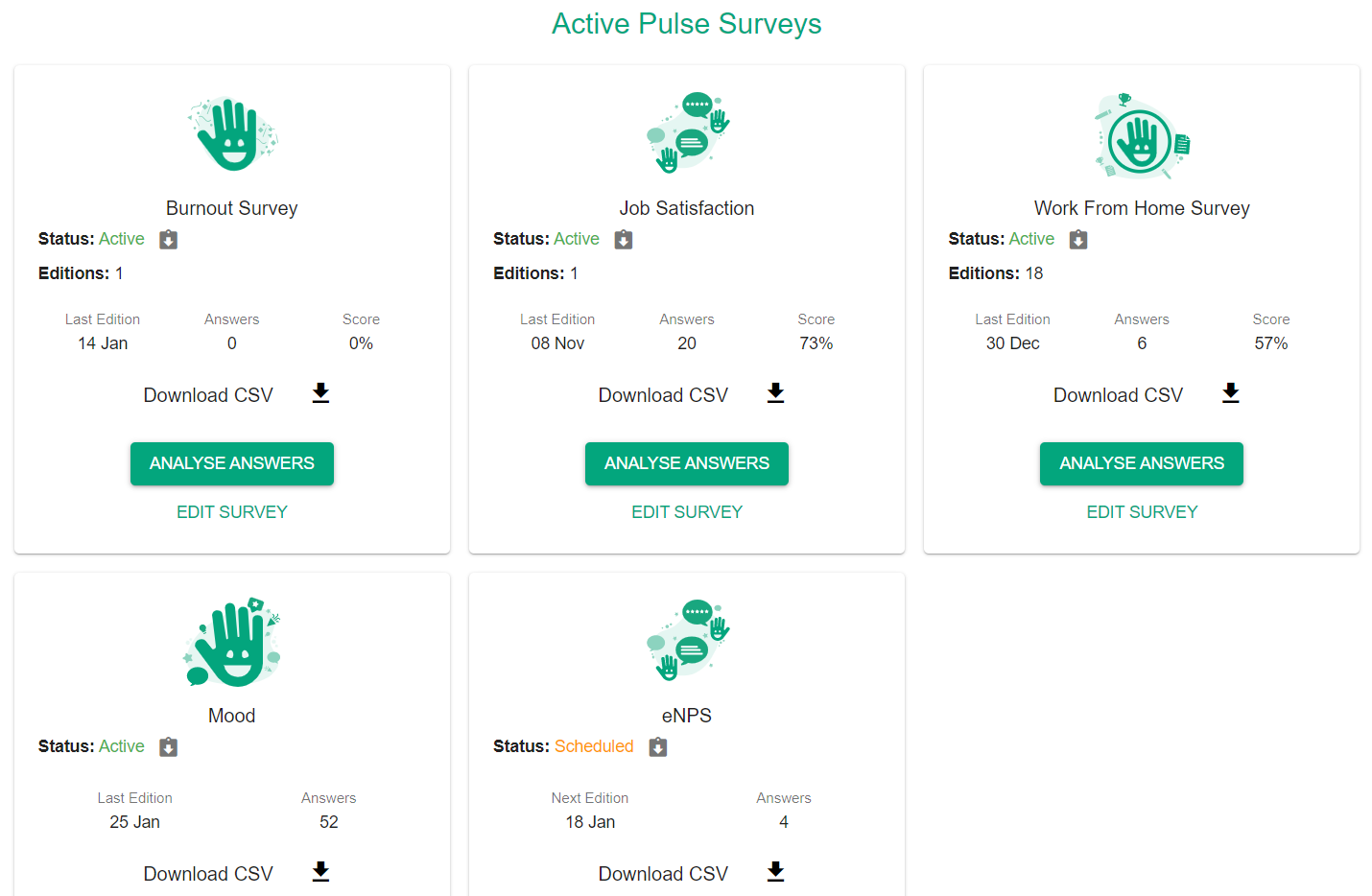 Other minor improvements/fixes include:
-Improved Recognition export, so it's easier to see the total amount of Taps per user;
-Deleted Taps will be marked as removed in the data export;
-Mood chart dates adjustment.
Please let us know if you have any feedback regarding these new features and improvements by sending us an email to team@tapmyback.com or by using the chat widget on our page. 🙌